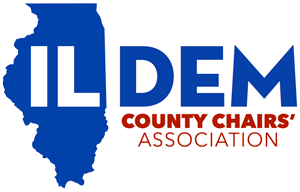 Nobody builds smart, effective grassroots political organizations like the Illinois Democratic County Chairs' Association. One important key to our building efforts is our annual Candidate Boot Camp, put on in conjunction with the National Democratic Training Committee's Blue Bench Training Program.
Registration is now open for this amazing three-day intensive training that will take place on May 17th – 19th at the Crowne Plaza in Springfield.
This year's training will be better than ever. There will be three tracks:
Track 1 – Candidate Training is for candidates and potential candidates who are involved with their county party. Applicants will be screened and selected by the IDCCA. Sessions will cover developing your story (communications), telling your story online (digital), identifying and persuading voters (field), and fundraising. First time candidates and elected officials who are running in 2020 are invited to apply.
Track 2 – Staff Training is for anyone wishing to take on a staff role in a campaign, preferably for a local, countywide or County Board race. The course will cover communications, digital, field operations, and fundraising.
Track 3 – Local Party Training / County Chairs Training is for County Chairs. If there is room, applications from precinctpersons will be considered. It will cover crafting a local message, digital, growing your organization (volunteer recruitment), and fundraising.
This is an amazing opportunity for anyone who is seriously thinking about running for election or re-election to a local or county office or beyond. But you need act fast! You must apply by April 26, 2019.
Get more information here, then submit your information and the IDCCA will be in touch with you to gain a better understanding of your situation.
This is the chance you have been waiting for! Go for it! Apply today.
Sincerely,
Kristina Zahorik
President, IDCCA